Product/Process Launch, Control and Re-engineering
Layouts for optimal product routing or new/existing facilities (CAD and/or simulation software) enhancing space optimisation.


Implement Group Technology or Just-in-Time (JIT)

Statistical Process Control (SPC)

Minimising work in progress (WIP)

Efficiency and cost analysis

Stores and materials management

Optimal Plant Availability

Use of six sigma tools
Occupational Safety and Health Services
We prepare Safety Statements for our Clients. This service can be further extended by developing safety management systems meeting the requirements of the 45001: 2018 standard.  We can offer the Paradigm 3 software customisation features to integrate risk management methods and assessment techniques. See Paradigm software page.

System Modelling & Graphical Simulation
Modelling and simulation software as a decision support tool to:
Reduce expense of equipment installation and plant services

Provide good quality information for cost-effective decision making

View system logistically as a whole integrated unit

Identify potential bottlenecks in volume assemblies

Improve system design

Introduce options for prototyping and reduce cost of changes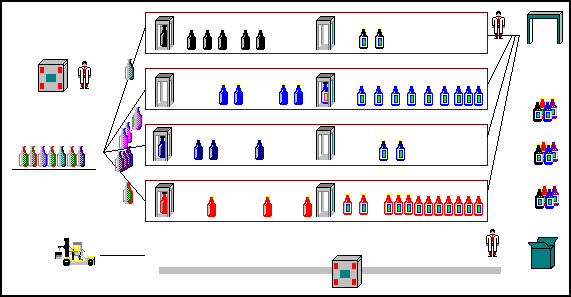 Factory floor layout modelling where each operation can be 3D graphically simulated for process routing, space utilisation, the creation of manufacturing cells, addition/removal of equipment etc.